An air conditioning unit is one of the most important appliances in our homes today.
Indeed, servicing it once a year is recommended for its smooth operation and efficiency, but it's also essential to maintain it by following the DIY route. Regular maintenance will prolong the unit's lifespan, lower your monthly utility bills and keep it safe from major repairs.
Whether you have a one-room or whole-house air conditioner, you shouldn't make it work harder than its capacity. And honestly, a little upkeep can go a long way, so you should do your bit to improve its longevity.
So, in this guide, we'll share some tips and tricks to help keep your air conditioning unit in pristine condition. Let's dive into the details then!
Effects Of A Dirty Air Conditioner
From pet danders to dust, anything can get trapped in the unit and make it inefficient. Homeowners must take care of their AC to enjoy the utmost comfort during the scorching summer months.
Here are some of the effects of a dirty air conditioner:
Cooling coils lose effectiveness
Airflow gets blocked
The thermostat receives improper reading
The Air conditioner handler slows down
Tips To Maintain Your Air Conditioning System
Dust, debris and other particles can clog the filter of your air conditioning system, thereby hampering its performance and efficiency. The airflow is severely impaired when dirt builds up, and the handler works hard to push the air through a clogged filter. Besides damaging the air handler, it also increases energy consumption, escalating your utility bills.
Though tricky, maintaining your air conditioning system isn't challenging. And the best part is that it requires minimal effort and is inexpensive. Even novices can pull off the task without much difficulty. So, let's dive in to learn five simple ways to maintain your air conditioner.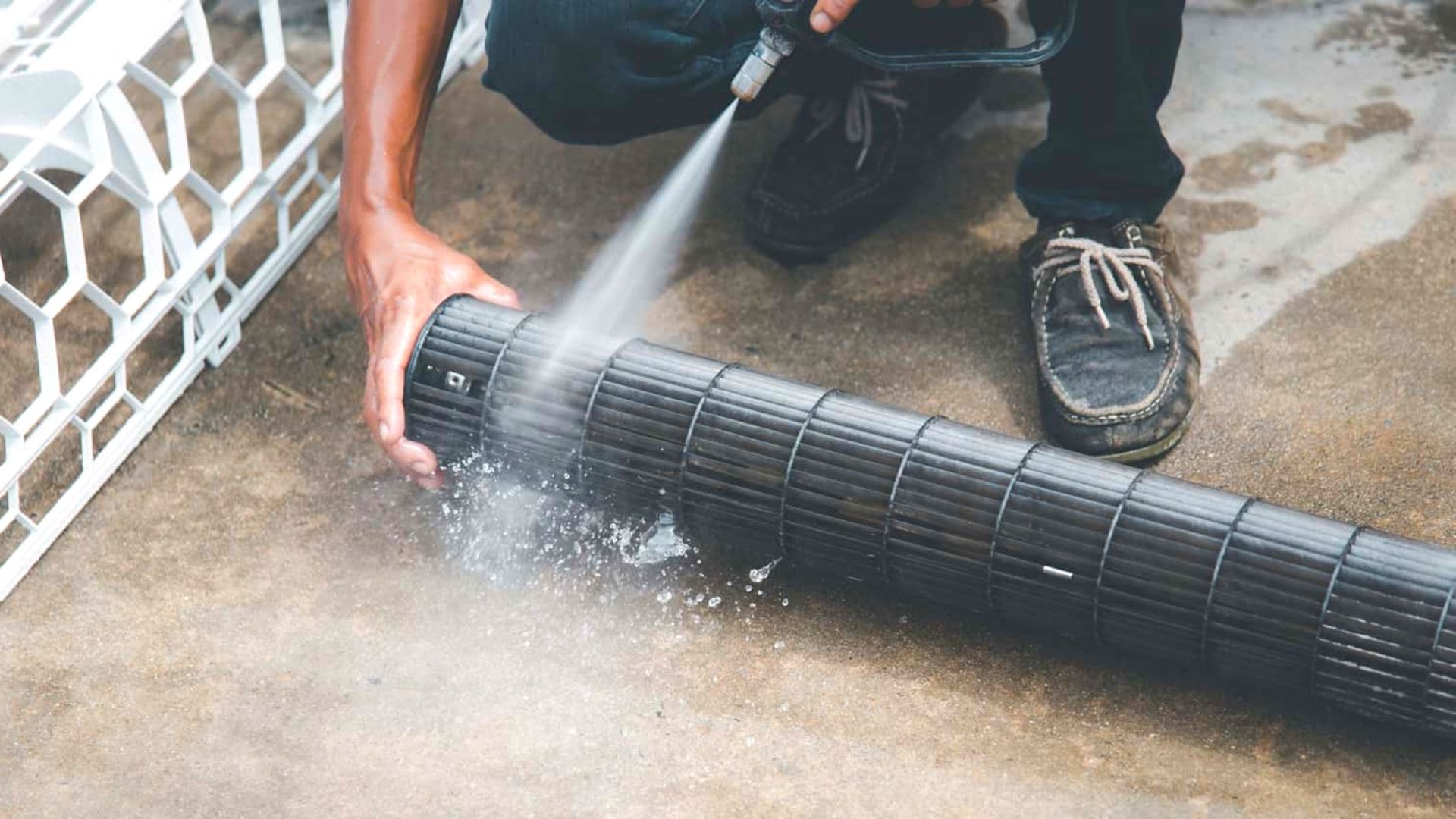 1. Keep The Coils Clean
One of the most important components of air conditioning units, the coils primarily help the refrigerant absorb heat and supply cool air to your space. However, a blanket of dust covers them over time, and because of this, the AC unit has to push hard to cool your room.
It consumes more energy than it should when this happens, leading to an upsurge in your utility bill. So, the best way to prevent this is to clean the coils regularly to avoid unnecessary strain on your unit.
Of course, there are plenty of ways to clean them, but we'd suggest you start by cleaning the condenser unit, which is an external component.
2. Unclog The Condensate Drain Tube
If water puddles around the furnace when your AC is running, it's likely that the condensate drain tube is clogged. Unclogging the tube is crucial for the proper functioning of the appliance.
But, if you regularly check the water drainage, you won't have to unclog it now and then. And if the blockage has hindered drainage, clear it yourself or call a professional.
3. Keep The Fins Clean
Every air conditioning unit has an evaporator and condenser, which feature fins that can bend and block airflow on prolonged use. Bent fins hamper the efficiency of the AC and will need to be fixed.
Check the fins regularly to ensure they aren't bent, but you'll have to replace them with a new one if you notice a curve. Though you can change them yourself, we suggest contacting a professional air conditioning technician to be safe. The experts know the nitty-gritty of the machine, so they will tackle the job better than a novice.
4. Replace Your Air Filter Once A Month
One of the best things you can do to keep your air conditioner in excellent condition is to replace its air filter at least once a month. And you can do it yourself because it is one of the most straightforward tasks that will take just a few minutes.
Not to deny, dirt, dander, dust and other particles get trapped in the filter of our air conditioner so that they don't infiltrate the room. But did you know that when excess particulate matter gets into the air filter, it doesn't function properly? Consequently, dirty air filters degrade the air quality of your home and put an extra strain on the unit.
But if you're a novice who doesn't know how to go about it, you can call a technician to replace them every month. This will keep your AC in pristine condition and, at the same time, maximise its efficiency.
5. Schedule A Professional Maintenance Appointment
In a world where we are always on the go, taking care of an air conditioning unit is the last thing we would do. Surely, most air conditioners are expensive equipment in our homes and taking care of them is necessary.
That's why we suggest you contact a professional technician to come over and inspect your appliance. They'll have the nous to handle the tasks skilfully from cleaning to fixing major issues so you won't have to worry about anything.
Our Precision Electrical & Plumbing team can help if you live in Melbourne. Our company is experienced and knowledgeable in many types and brands of air conditioners. Our technicians can restore your to working order with friendly and professional service in no time at all. So, reach out to us today!
Maintaining Your Air Con
Who doesn't love relaxing in a cool room on a Sunday summer afternoon?
But as exciting as the idea of installing air conditioning sounds, the hefty appliance calls for regular maintenance for proper functioning. Or else, its dirty air conditioner coils, handlers and filters may put excessive strain on the unit, increasing your electric bills, hindering its performance and leading to significant issues.
However, if you're a beginner, you should call a professional to get the job done. Indeed, it will cost you a few bucks, but you'll be saving hundreds of dollars on untimely repairs and replacements.
Before we sign off, here's a pro tip - don't hire anybody you come across online and make sure you check the reviews to know if they are worth hiring or not.
That's it for today; see you later!