Many homeowners underestimate the importance of installing power points outdoors, but they are incredibly useful.
These power points allow you to run yard equipment without using extension cords. With power points installed outdoors, you can also install string lights in the backyard or patio to spruce up your weekend parties.
Besides lighting the outdoor space and using lawn equipment, power points can be installed for other purposes. So, if you're planning to revamp the exterior of your home, it's about time you install power points outside.
As outdoor spaces are exposed to elements, installing regular power points won't be possible. So, seeking the assistance of a licensed electrician is the best option.
In this guide, we'll discuss what types of power point will be suitable for outdoor installation.
Outdoor Power Point Installation
As a homeowner, you cannot install any standard power point outdoors and only weather-resistant power points should be installed in all residential properties. This is applicable to all outlets installed within a property, including those around patios, hot tubs, pools, and decks.
Power points that would directly be exposed to weather should be equipped with an Extra-Duty While-in-Use cover. In regard to power points in damp locations, any weatherproof cover, preferably approved ones, must be used. Basically, this applies to outdoor spaces that aren't exposed to the weather directly, like covered porches, patios and decks.
Weatherproof covers are generally watertight covers to protect the electrical outlet from damage against rain, storm and other natural elements, even with the plugged-in cord.
What Power Points Can You Install Outdoors?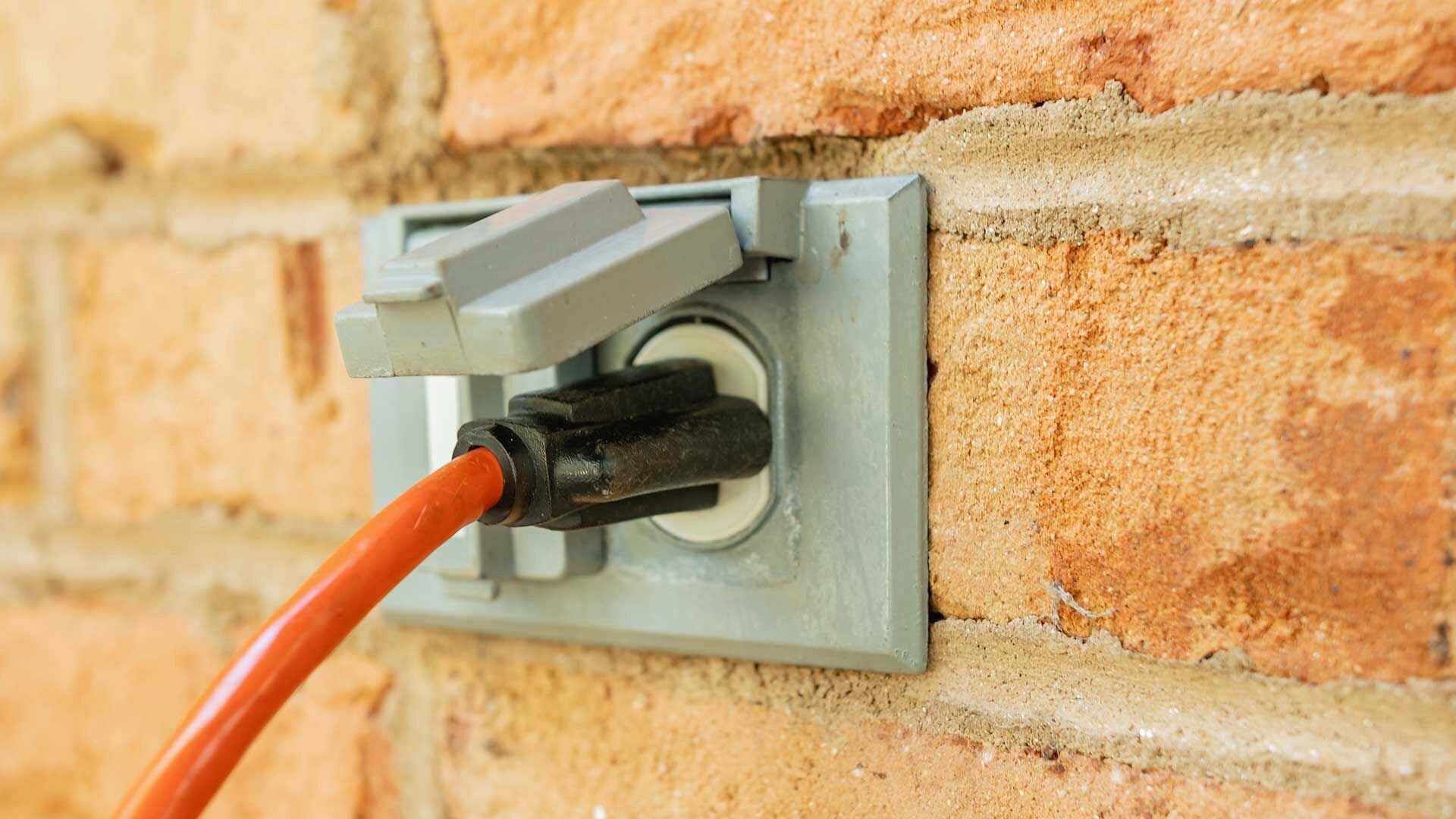 1. A Weather-Resistant Power Point
So, what sets a weather-resistant electrical outlet apart from regular ones?
Basically, the difference between the 2 lies in the construction. Those installed indoors are made of standard materials, meaning they aren't waterproof. For this reason, indoor electrical outlets aren't meant for outdoor use.
Power points meant for outdoor installation are designed to stand up to the rigours of the natural elements. Unlike indoor outlets, they are exposed to the elements 24/7 and are constructed using UV-stabilised materials to protect them from damage.
UV-stabilised materials can withstand the impacts of UV exposure without ceasing to function, so even the mounting strap is made of them. Outlets manufactured using such materials last longer than those constructed using regular materials.
In addition to that, the electrical outlet is secured using corrosion-resistant screws. So, when they come in contact with water, the fasteners won't rust and the strength of the fasteners won't be affected in any way.
2. A Tamper-Resistant Electrical Outlet
Besides being weather-resistant, outdoor power points must be tamper-resistant. Electrical outlets that are designed to be tamper-resistant feature a built-in shutter mechanism within the receptacle. This prevents sockets, other than a 2-prong or 3-prong socket from being inserted into the outlet.
3. GFCI Outlets
GFCI or ground-fault circuit interrupter outlets are designed to turn off by tripping in the event of a short circuit or current leakage. By tripping and turning off, such outlets ensure the residents' safety by keeping them protected from accidental shocks and preventing fire outbreaks.
GFCIs are components that scan the electrical power supplied to the appliance or the system plugged into the receptacle. In the process, if it detects a ground fault, the power of the device is turned off in a fraction of a second to ensure the safety of people in and around the space.
Due to this, one major benefit of installing GFCI outlets is they keep individuals safe from severe electrical injuries.
A Few Things To Keep In Mind When Planning To Install Power Points Outdoors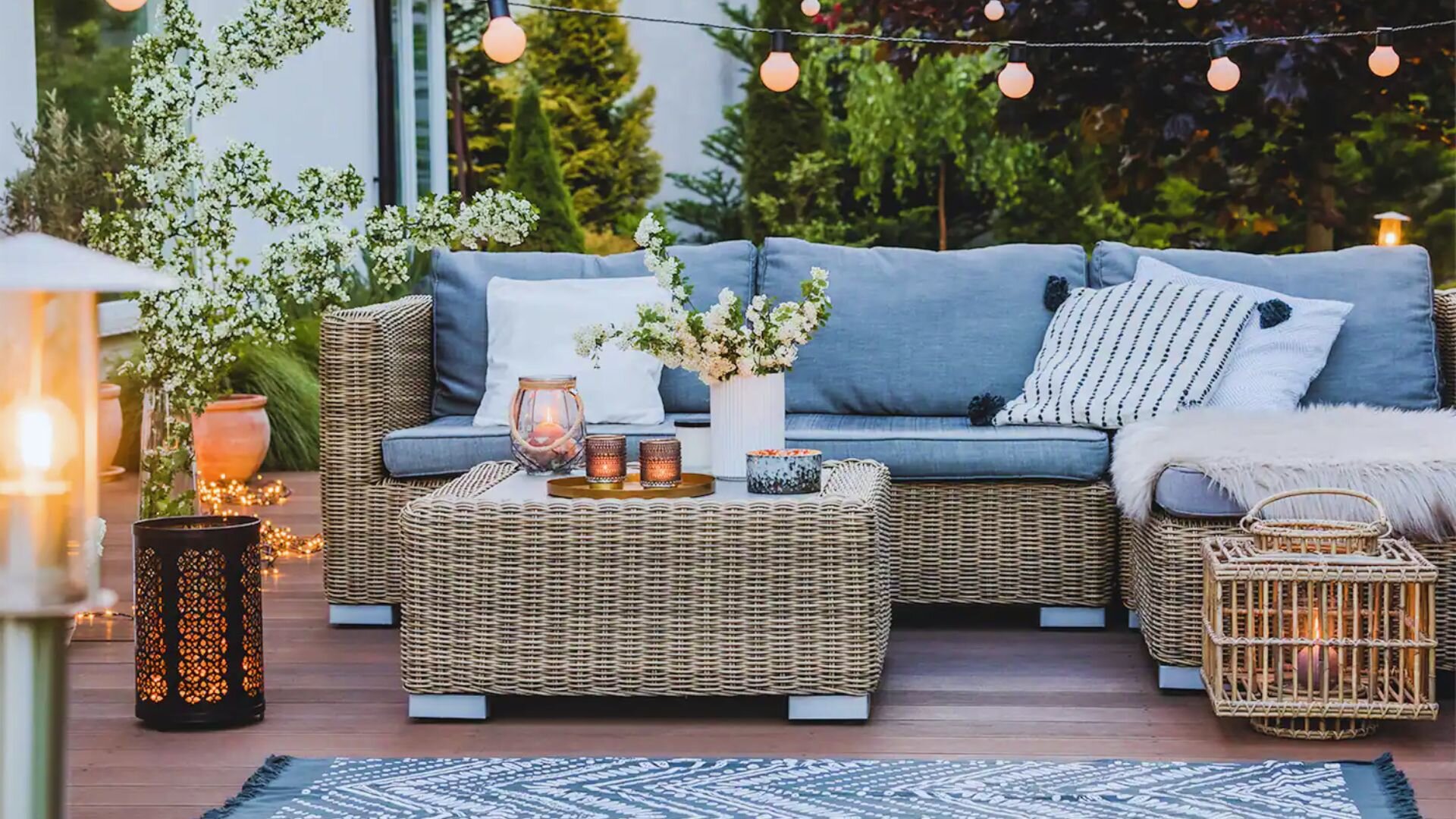 Strategic placement of power points is important because of the convenience it offers users. Not just that, but it also ensures users' safety while using them and prevents energy wastage to manage electricity consumption.
However, there are a few things every homeowner must keep in mind when planning to install power points outside. They are as follows:
Never install power points or electrical outlets adjacent to an outdoor spa or pool.
Always install power points nearby leisure areas
You must be able to access the outlets conveniently.
Cover them with weatherproof covers to prevent damage from moisture or debris
Take into account the load of the power equipment you intend to run
Choose power points after consulting a professional
Make sure to install safety switches to protect power points and lighting circuits.
Outdoor receptacles must be positioned 6 1/2 feet above ground level.
Powering Up Your Outside Space!
To sum it up, outdoor power points should be weather-resistant and tamper-resistant only then will they be able to withstand the harsh outdoor elements. For added safety, you must go for GFCI outlets because they turn off the power point before accidents can take place. This way, you won't have to worry about the safety of your family and property.
When it comes to installing power points, you should always rely on professionals to get the job done. That's mainly because Australian law states that carrying out electrical work unless it's changing the bulb is illegal in the country, except for licensed electricians.
Countless forums and websites may convince you to pull off the task yourself, but you shouldn't do so unless you want to land in trouble. Much like plumbing, electrical issues are complex and even minor mistakes can lead to dangerous experiences.
So, give our experts a call at Precision Electrical & Plumbing today to install your new outdoor power point in Melbourne!